How to Upload your Data as regional boundaries using eSpatial's link to boundary
Intro:
This video will show you how to upload data to eSpatial using link to boundary.
Why Upload using Link to Boundary:
Adding your dataset using link to boundary can be used to represent your data as region boundaries such as states, counties or provinces rather than pins. Your data can be linked using existing eSpatial regional datasets or territory boundaries created by you in the territory manager.
The data in your columns will be used to match the attributes in eSpatial's boundary datasets so please ensure areas are spelled correctly and there are no additional spaces in your dataset.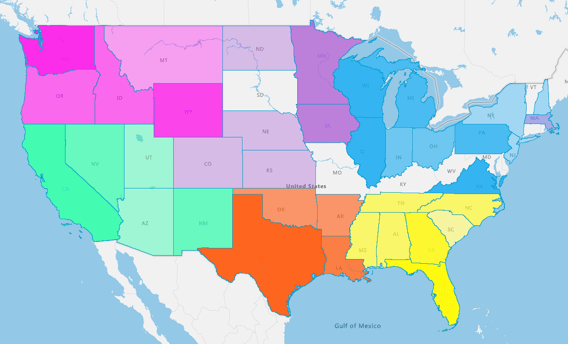 Uploading Data using Link to Boundary:
To add your data as boundaries, click on the Add Data button in the Control Panel.
This will open the Add Data window where you should then click on the Upload new data button.
Select the csv file you want to add, you will then be brought to the upload data window
Click on the Change Settings button to open the Settings window and select the Link to Boundary option.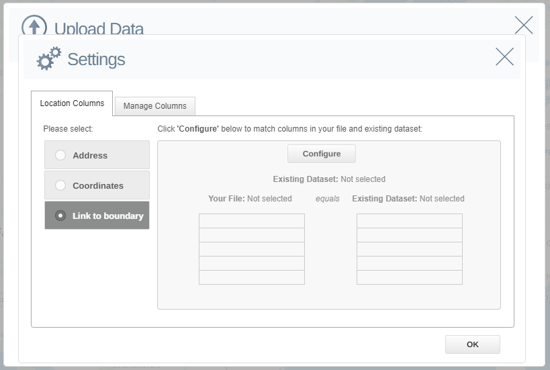 To link your dataset to one of your existing boundary datasets or one of eSpatial's datasets, Click on the Configure button to open the eSpatial library.
If the dataset you are linking to is one you have already uploaded or that you have already added to your account from the eSpatial datastore then select the Datasets tab. If the dataset has not yet been added to your account, then select the eSpatial Datastore tab.
Search for the boundary dataset you want your data to be represented as and then click on the Select button next to your chosen dataset to confirm it.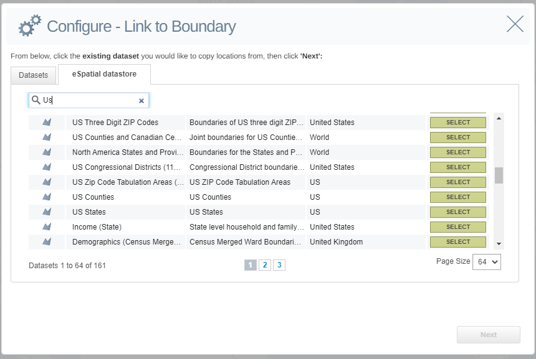 You should then select the column in your data and the column in the existing dataset that match and click the Ok button.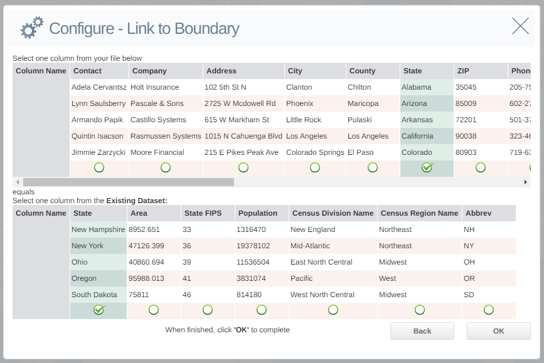 The Settings window will open. Click on the OK button to accept the settings. eSpatial will link the fields in your data with those in the existing dataset.
Next Click on the Complete button. The Upload Data window will reopen where you can see the progress of your upload and how your data was plotted.
Click on the Return to Map button to see your data plotted as boundaries on your map.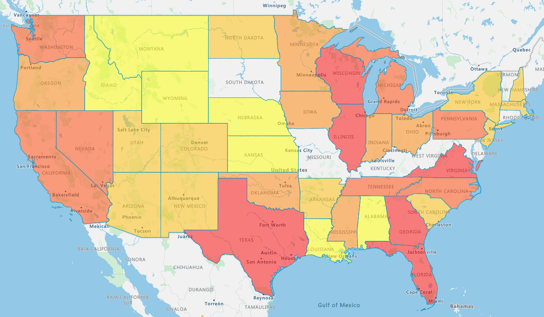 Finish
Thank you for watching our how-to video. If you have any questions you can contact us by emailing help@epsatial.com or by selecting the chat button to the bottom left-hand corner of your screen when on our website or logged into eSpatial.