Export a high quality JPEG for printing or sharing
You can print Maps from the  Control Panel. The map will be exported as a JPEG. This can then be used to insert a static image of a map into a report document or powerpoint or slidedeck type presentation.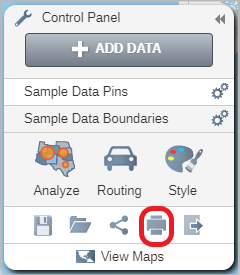 Click on the Print button at the bottom of the Control Panel to open the Print Preview window which can be seen below.

Choose a Page size from the drop down provided. Each Page size will be suitable for printing at certain size and dpi.

Small – Suitable for A6 printing at 150 dpi
Regular – Suitable for A4 printing at 150 dpi
Large – Suitable for A3 printing at 300 dpi
X Large – Suitable for A1 printing at 300 dpi

Map views can be cropped by dragging each corner. 
Choose your format of either Landscape or Portrait.
Once you are happy with your choices click on the Download button to download your map as a jpeg. This will be downloaded to the download folder for your browser.
Note: Printing can only be carried out using the default roadmap basemap. 
Printing without a Legend
If you wish to print without a legend simply collapse the legend using the double arrows in the top right hand corner before you click on the Print button. This will create an image of your map without the legend.