How to open previously saved maps and different versions of a map in the same workspace
Map Versions:
You can open previously saved maps. When you apply analysis, routing or filters, for example you can save your map off with these switched on. This makes it very easy to return to look at a map in a specific state that you have saved it in.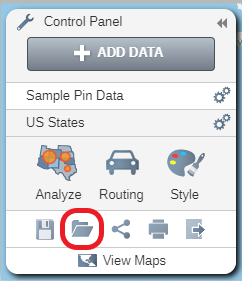 In the Control Panel click on the Open button to open the Open Maps window. The Open Maps window will open as seen below.
Click on the name of the Map that you wish to open. You will be asked if you want to save any changes to your current map. Select Yes or No as appropriate.
Your selected map will open with any analysis, routes or filters displayed.
Click on the Trashcan icon to delete the map. This will only delete the map. Any datasets present on the map will still be available for selection from the Library.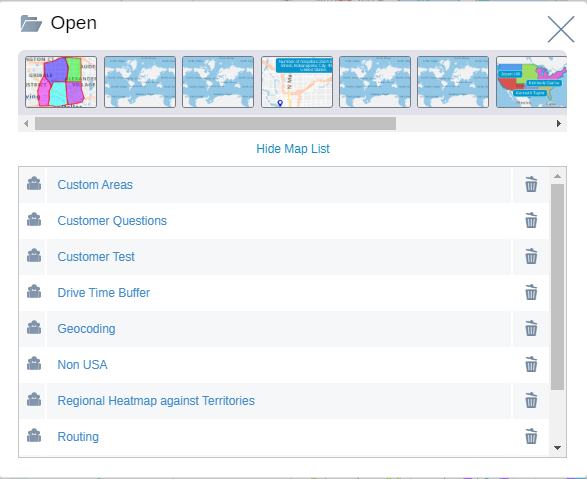 Map Carousel
You can also view all of the maps on a workspace by clicking on the View Maps button at the bottom of the Control Panel. This will open the Map Carousel which contains thumbnails of all of the maps in the Workspace. Hover over a thumbnail to see a larger image of the Map.
Click on the View Maps button to open the Map Carousel.
You can scroll through all available maps.
To open a map click on the thumbnail.