Creating a Point/Account Territory from a excel/csv file.
This territory is designed for companies whose territories don't fit within a defined geographic area and who assign salespeople to key accounts, industries, specializations, parent accounts or other criteria beyond geographic area.
Click on the + Build Territories button in the Top Toolbar.
From the drop-down select New Alignment. You can also edit your existing Territory Alignments from here.
Select Points from File
Select the csv or excel file you want to use to create your territory alignment
Choose your location settings whether locating your data by address columns or latitude/longitude co-ordinates.
NOTE: You can edit the columns used to locate your data by selecting change settings and manage location columns.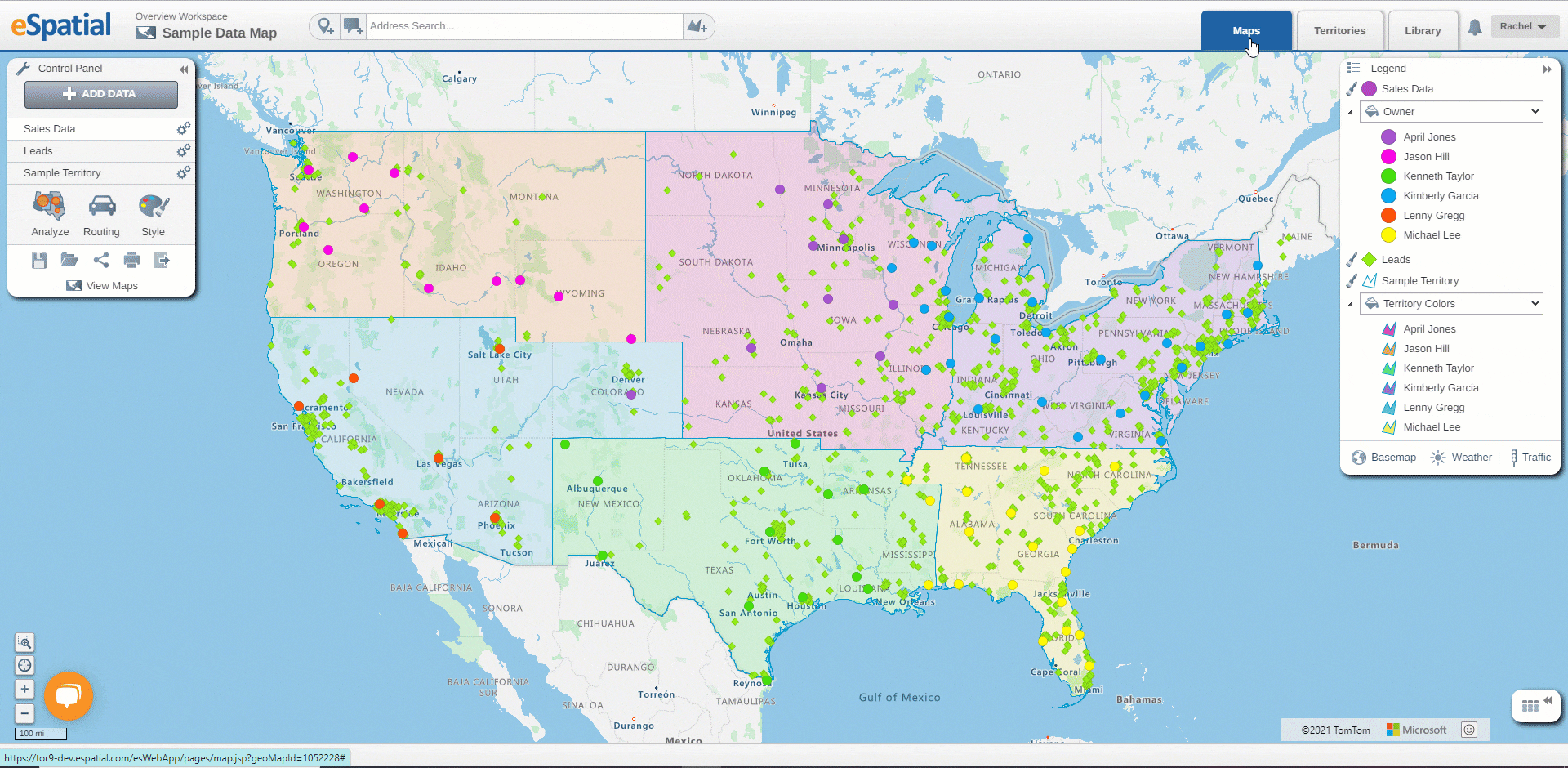 Next you must select the territory identifier such as the territory owner of the regional location




If creating hierarchical territory alignments, click the + Add level button to add a hierarchy level. You can add up to 6 levels of Hierarchy.

Select Complete and your territories will be created.
Reassigning Accounts/Points:
You can reassign your accounts/points in 3 ways:
1. Single Account selection.
Click on the account you wish to reassign
When the info box appears select add to selection
The selection panel will then open where you can select the territory to wish to reassign the account to and then select reassign.

2. Select Areas Button.
Click on the Select areas button.
Then left click on the map to start drawing an areas around the points you wish to select. 
Select the check icon to select all the points within your area (you can also double click to confirm the area). The x will cancel the area drawn.
When the selection panel appears, review the accounts/alignment selected. If you do not want to reassign the accounts, uncheck the box.
Select the territory you wish to add the accounts to and select reassign.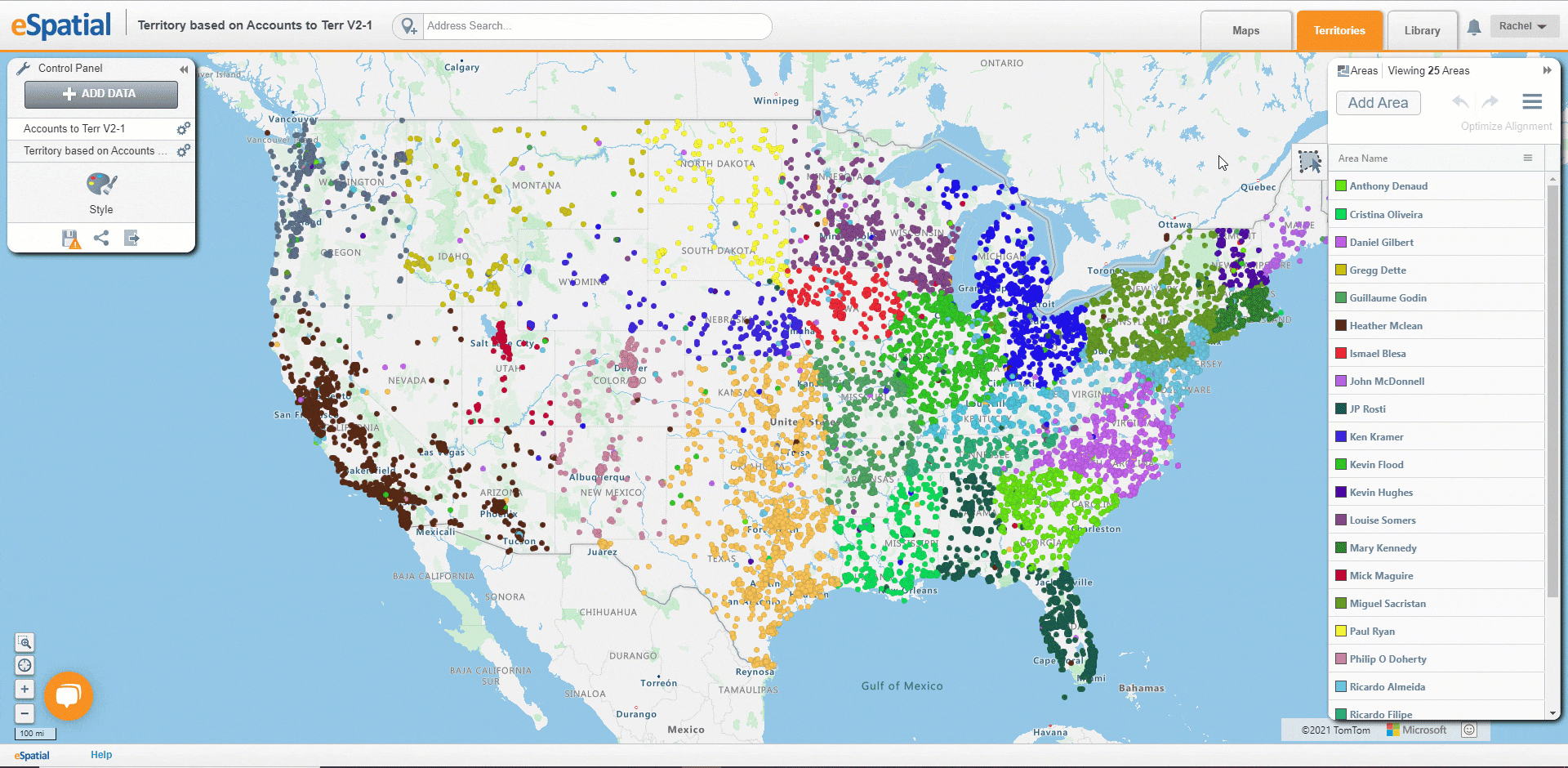 To add additional fields to the selection panel, click on the hamburger icon beside the field name in the selection window and check on the fields you wish to display. Fields used in balancing can be added to the Summary and Region Tab. All data fields are available to be added to the points dataset tabs.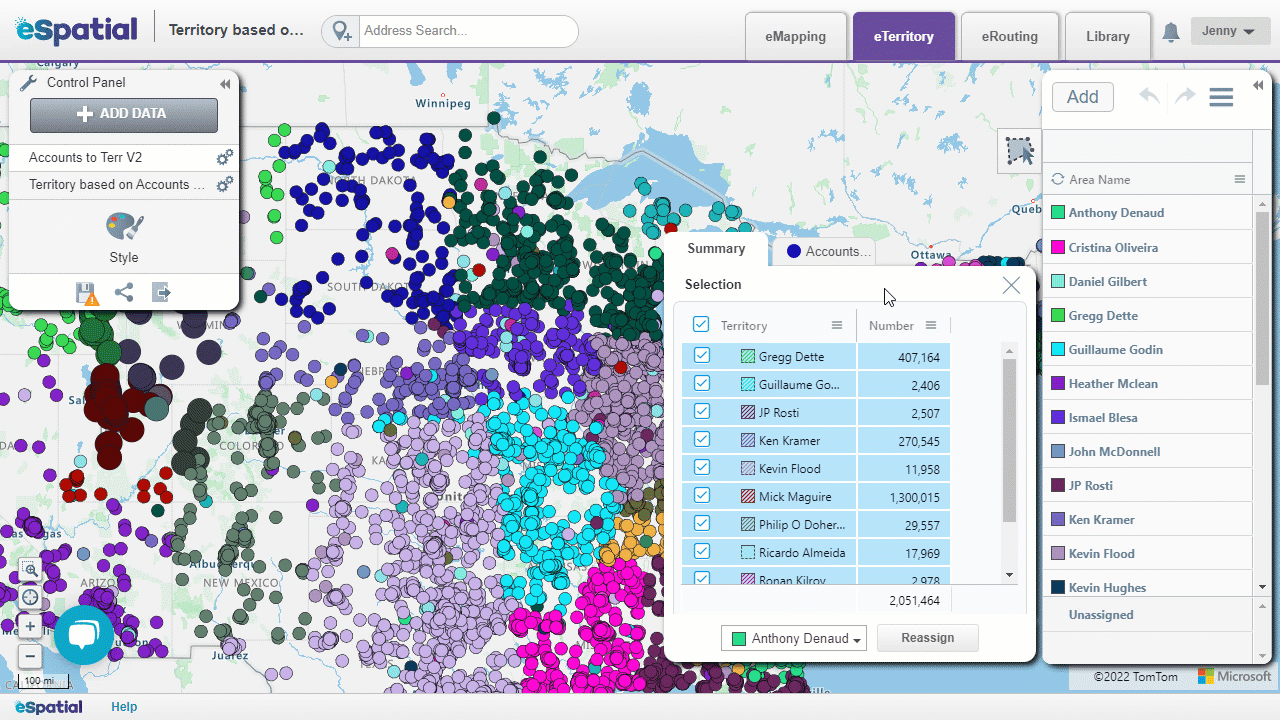 3. The Table:
Users can also use the territory manager table to assign and reassign accounts. To do this, Open the table by going to the hamburger icon and selecting the table icon.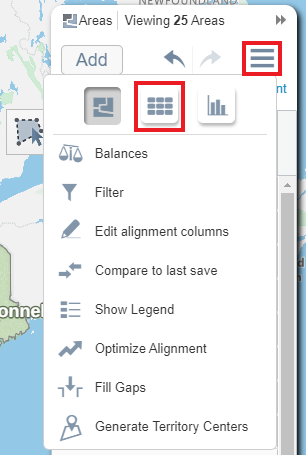 To move accounts to another territory, select the checkbox beside any accounts you wish to move, select reassign, and then choose the territory you wish to move it to.