How can I simplify complex territories?
Sales Territories are ideally adjacent, contiguous, and without holes. Isolated zip codes and island areas all add to the complexity of a territory. Ideally you will end up with complete polygon shapes.
Areas Too Complex Warning Message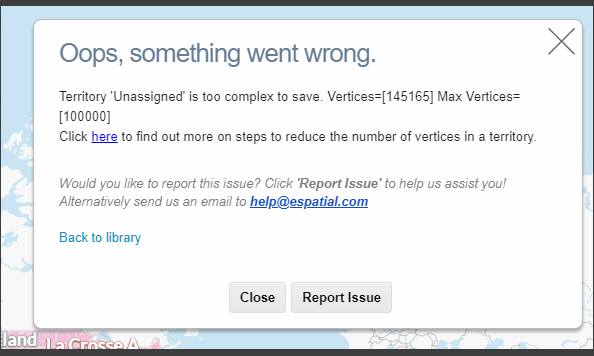 If you receive a warning in eSpatial that your territories are "too complex" to save, this means that there are too many vertices (boundary nodes or edges) in the alignment identified in the error message. The causes of this are likely to be as follows:
Many isolated areas e.g. alignment is made up of independent disperse zip codes
Disjoint territories e.g. A single territory is spread across a country and is not in a single geographic area.
Many gaps/holes in a territory e.g. Territory has many areas in the middle of the territory that are allocated to another territory or unassigned.
Unassigned Territory e.g. In some instances, an unassigned territory can be made up of every region that is currently unassigned to a sales rep/engineer/franchise. This type of territory can generally include all three of the previous issues.
Steps to resolve this
Fill any gaps in this territory. Use the select areas tool to select any unassigned areas in the middle of the territory identified in the warning message.
Delete the territory identified. It may be that the territory causing the issue is not a real territory, such as an unassigned territory. With eSpatial, it can be easier to remove this territory freeing up all the area under the unassigned territory to be available for all others.